Let's Just Get This Done!
Yes, this recall nonsense is aggravating and wasteful, but it's not trivial and needs to be beaten down by the majority of California voters who know better. There are plenty of us, but we need to vote without fail. Ballots will be arriving this week.
Here's what to do:
Mark, sign & seal your ballot right away. Ballots arrive this week; don't procrastinate.
Vote "NO" on Question #1. That's it. Don't even engage with Question #2. If we defeat the recall, the rest is a pointless distraction.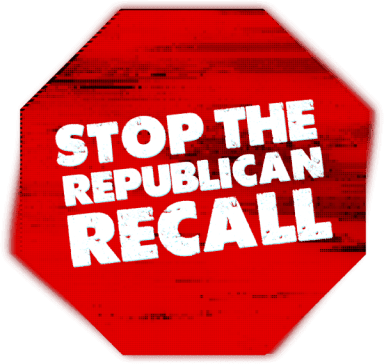 Mail it in or drop it off. If you don't trust the U.S. Mail, there are several drop-off locations, including the County Adm. Bldg. on Anacapa St., County Elections at 4440-A Calle Real, the Eastside Public Library at 1102 Montecito St., San Andres Hardware at 635 Micheltorena St., the Goleta Valley Community Center on Hollister, Goleta City Hall at 130 Cremona Dr., and the Carpinteria City Hall.
There are Election Day (Sept. 14) polling places, but everyone will receive a mail-in ballot. Why wait?
If you have friends or family who need persuading or are even considering not voting, remind them about: Gov. Newsom's careful, data-based leadership throughout the pandemic, California's current financial stability, and our state's strategic investments in housing, infrastructure, public education, and climate change.
Or scare them with the opponents' positions: Reported recently in the Orange County Register.
Remind Your Neighbors Where You Stand!
Free anti-Recall yard signs are now available at party HQ at 123 E. Carrillo St. Organizing Director Spencer Brandt is often at his desk there, but predictably you will find DSC volunteers to help you Wednesdays thru Fridays, 10 a.m. to 2 p.m. Take one for a friend in a different part of town! And while you're there, ask about how you can join the weekend walks or call voters from home.