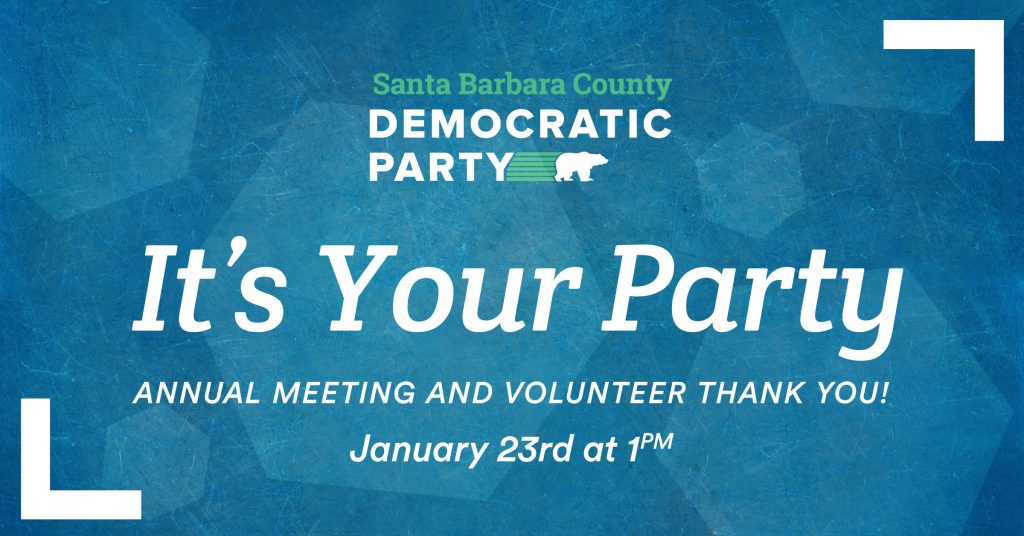 Saturday, January 23rd
1PM-2PM
Virtual via Zoom
Join the local Democratic Party for our Annual Meeting, and learn about the party structure, hear from our elected officials, and kick off the Biden Presidency by staying engaged! We've got a packed afternoon for you including…
WTF is the Democratic Party?
Ever wondered how the structure of the Democratic Party works? Have all your questions answered during a presentation from Regional Director David Atkins.
Democratic Trivia Extravaganza
Show off your knowledge and have the opportunity to win prizes from local small businesses across Santa Barbara County.
What a Biden Presidency means
Hear from local activists and policy experts about what a President Biden can do to address progressive priorities.
And our Democratic elected leaders including
Congressman Salud Carbajal, State Senator Monique Limón, Assemblymember Steve Bennett, and more!
Paid for by Santa Barbara County Democratic Central Committee
FPPC #742091 • FEC #C00427856