Virtual Labor Day Celebration with Fellow Dems & Candidates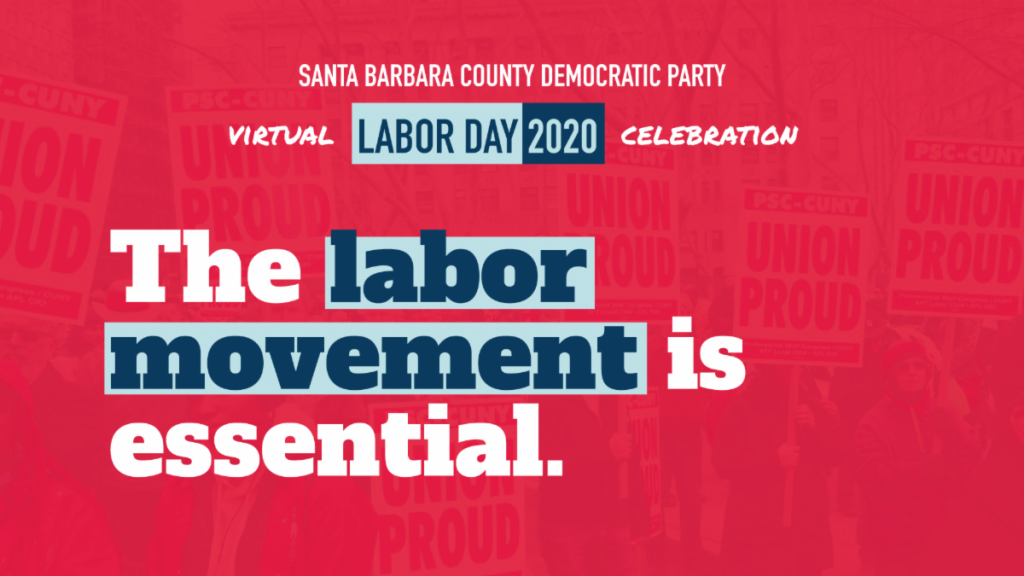 Join fellow Democrats for a  Virtual Labor Day Celebration, 2 – 3 p.m. on Monday, Sept. 7th. You will hear from Congressman Salud Carbajal, running for re-election, Monique Limón, running for State Senate, Dawn Addis, running for State Assembly District 35, Steve Bennett, running for State Assembly District 37, and many more of our endorsed candidates, as well as UDW/AFSCME 3930, UFCW770, Central Coast Labor Council, and SEIU 721.
Your $10 donation will help provide the funds we need to run a strong campaign this fall, including slate pieces for Democrats and labor-endorsed candidates, as well as running phone banks and texting programs.
And there will be an opportunity drawing for a two-night midweek stay with BBQ kit at El Capitan Canyon.
* * *
Dawn Addis Event with Assembly Speaker, State Senator
The chances of flipping the CA Assembly seat just to the north in Santa Barbara and SLO counties are very strong this year. The Democratic candidate, Morro Bay City Councilwoman Dawn Addis, is out-raising the incumbent Republican, getting lots of media attention, and has the support of many local and statewide officials and groups.
On Thursday, Sept. 3, 5:30-6:30 p.m., she will be joined by California State Assembly Speaker Anthony Rendon and State Senator Connie Leyva for a virtual event in support of her candidacy. The Speaker will give updates on his work in the state legislature and both he and Dawn will hold a Q&A for guests attending the call.
Or if you'd like to know more about the Dawn or her campaign visit 
dawnaddis.org
.