The Meeting Was A Party
"What's so crazy about peace, love and understanding?" was the visual theme and message of the DSC's annual general meeting and volunteer appreciation party held Feb. 5 at the wildly decorated Cathedral Oaks Village Association clubhouse. Members, volunteers, and new recruits heard from the successful candidates from the 2016 campaigns–State Sen. Hannah-Beth Jackson, Assembly Member Monique Limón, 1st District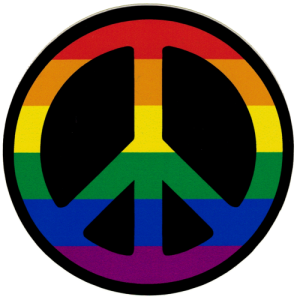 Supervisor Das Williams, and 3rd District Supervisor Joan Hartmann. Although Rep. Salud Carbajal was in Washington that day, former Rep. Lois Capps spoke from her experience in Congress. Club business included re-electing EJ Borah as Vice-President and Jen Cooper as club Treasurer.
Reaching Out
Since Election Day 2016, the club has received a marked influx of interest and inquiries from local Democrats about how to get more involved in political activities and volunteer service. We hope to play a role in broadening the grassroots network of active Dems locally.
Beyond our own projects, we intend to help connect activists and support the various groups working the same territory: We have, for instance, appointed a permanent liaison, Cecily Hintzen, to the SB Progressive Coalition; we have added new members to our leadership committee–besides Cecily, Leslie Edgerton, Chris Nelson, and Pat Beals–to give us strength in supporting candidates and causes; and we always stand ready to lend a hand to allies such as Health Care for All Santa Barbara, Indivisible Santa Barbara, and the young electeds in Isla Vista. We are also grateful for the services of our webmistress Katharine Gring, who has kept our website in synch with the wild post-election political scene.
Democratic Organization–Not an Oxymoron!
And finally, our volunteers were on hand last month to facilitate an unusual public forum downtown at Impact Hub Santa Barbara on how the Democratic Party at all levels works and sometimes mystifies. The all-afternoon session, held just before the national party's selection of a new chair, was sponsored by the Democratic Club of Santa Barbara, who like the DSC is chartered under the county party. Along with presentations from local officials such as Supervisor Das Williams and SB City Councilman Gregg Hart, the fully-engaged crowd listened as Daraka Larimore-Hall, chair of the county Democratic Party and secretary of the state party explained the benefits and limitations of our Democratic party structure.